In the past three years, we've been sharing everything we learned from starting an eBay business with zero cash to grossing over $4.5M in sales and winning eBay awards.
This article is the most valuable one we created thus far since you will finally find in one place all the most amazing tips and tricks to learn how to sell on eBay.
We will divide these awesome tips into several categories (pricing tips, shipping tips, etc.) so you can easily find the tips in the areas you need them most.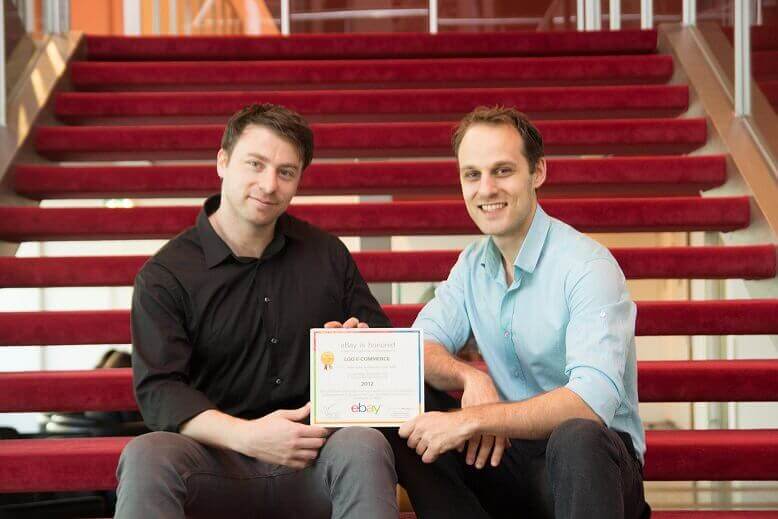 Who will benefit the most from this article:
Complete beginners – you just started and you want to learn how to sell on eBay

Veteran sellers – you are looking for creative ways to increase eBay sales

Large eBay businesses – looking to save tons of time by running your business more efficiently.
So let's get started with the most valuable eBay selling tips on the planet (special bonus tips at the end!).
eBay / Paypal fees most valuable tips
#49 : How to avoid incurring eBay's 4% fee?
eBay's fees which have evolved over the past years include introducing a new 4% 'fine' for sellers who fall below the standard. It is, therefore, crucial to ensure that if you sell on eBay's US site that you maintain an above average rating. The 4% eBay will charge you is in addition to the final value fee incurred on each and every sale made. This information is displayed on the seller dashboard and I recommend keeping track of your rating and maintaining your positive standing.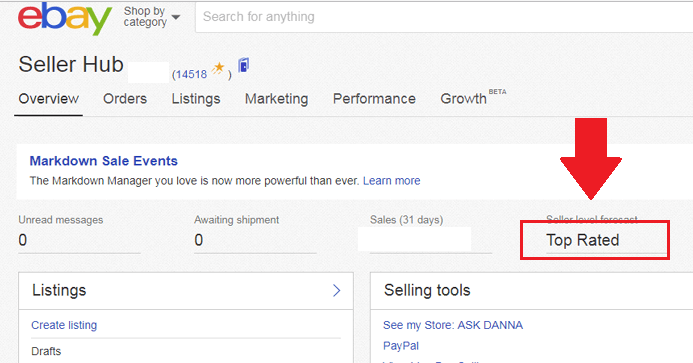 #48 : Using Mass Payment in order to compensate suppliers

Sellers who use PayPal in order to pay their suppliers will find this tip valuable. PayPal typically charges around $3.5 plus a fixed $0.30 that can alter based on:
The the country the parties of the transaction are registered in

The size and/or quantity of the transaction
This is where PayPal's 'Mass Payment' comes into action – this is not an option which they publicize and requires you contacting them directly and asking to use this method.The advantage of this service is that the beneficiary does not pay a fee while allowing the vendor to pay a fixed price.  
#47 : Automatically Recover Fees on unfinalized transactions
When you sell an item on eBay you are charged a final value fee. But sometimes a customer has second thoughts and does not pay for the item and in this case you are able to be reimbursed by ebay for the fee they unjustly charged you. You can do this either manually or automatically by turning on the 'Unpaid Item Assistant'.
#46 : Opening an eBay store in order to save on fees (only when it makes sense!)
When you open an eBay store you are able to enjoy lower 'listing' and 'final value' fees. If you approach eBay as a  revenue source and don't just sell items around the house on occasion then it would, in most cases make sense to pay for an eBay store.
Choosing which store subscription suits you best can be challenging which is why eBay has created a tool to help and why we explained how to use it in our eBay seller fees post.
Here is an example of eBay's store fee calculator: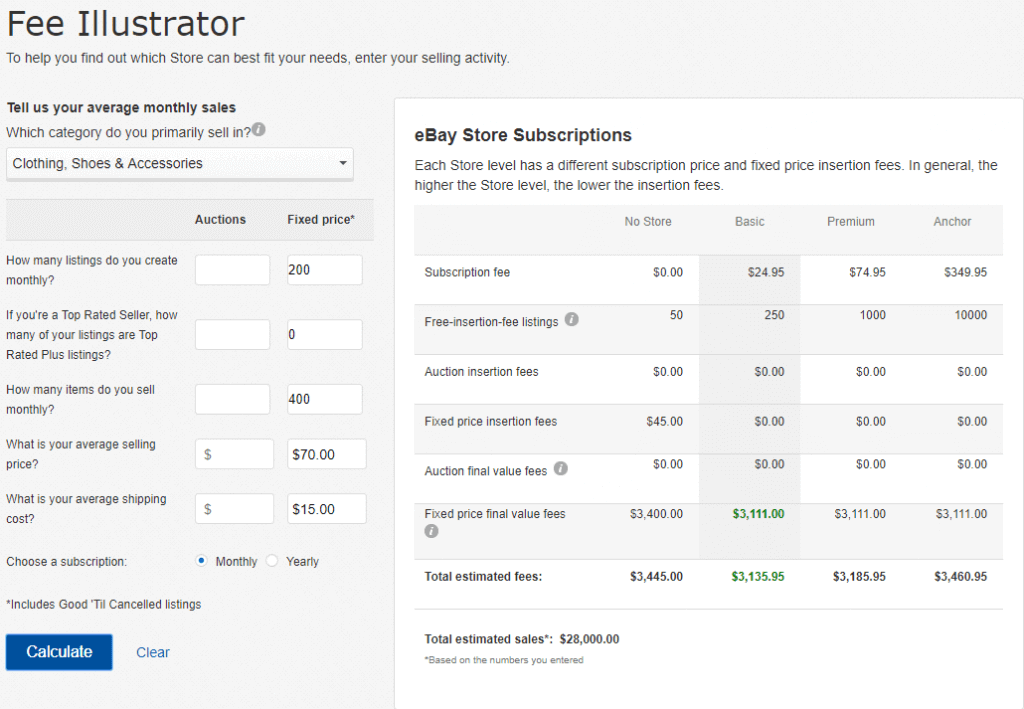 #45 : Free listing days
Sellers get 20 listings which they can post for free after which they need to pay an insertion fee. But many people do not know that eBay has free listing periods when you can list as many items as you like without paying a fee. If some of the items you want to sell are not urgent and you don't mind keeping them on the back burner, consider holding out until the next free listing day and then take advantage of this. You will still pay for extras such as image enhancement and you will still pay a fee on your final sale price to eBay but this can save you money especially in large quantities.
Consider signing up for eBay's free listing email alerts in order to stay in the loop.  
#44 : Purchase elective eBay listing upgrades
eBay offers a number of options which supposedly help increase visibility and sales such as 'Bold' and 'Subtitle'. I say supposedly since eBay has not made any statistics public which support the fact that these tools are indeed effective. Data is my rock when it comes to eCommerce and in its absence I tend to not bite.
In terms of the listing templates that eBay offers, they are clearly not geared towards conversion optimization. On this note, you may have seen the post we wrote about creating the perfect eBay listing explaining the key design elements which drove our sales up by 220% and was the most effective tool we used to grow our business.
#43 : High ratings = Lower fees
eBay gives preference to sellers who are highly rated by :
Listing these sellers higher in search results

Displaying the 'Top Rated Plus' seal in search results as well as in the listing description

Final value fees are discounted by a whopping 10% (not including shipping costs)
These benefits help increase potential sales and increase your profit margins.
#42 : Apply for PayPal's merchant rate
Another way to save with PayPal is by applying for 'merchant status'. This applies to sellers who are billing upwards of $3,000 who typically pay a fixed rate fee of 30 cents on a transaction plus an additional 2.9% of the transaction amount. If and when merchant status is achieved you could change the percentage portion of this fee drastically to:
2.5 %

2.2%

And in some cases even 1.9%!
In order to apply for this status on PayPal's website:
Login to Paypal

Click 'profile and settings'

Click 'my money'

Click 'merchant fees'

Click 'apply now'

Fill out a short form and click 'submit'

The most valuable tips to source suppliers and dropshippers
#41 : Carry out thorough background checks
Be extremely picky who you have dealings with and always request (preferably in writing) your suppliers to commit to:
Providing references from former or current clients

Being able to handle the amount of shipments per day/week/month that you need – only you know this figure be it 5 or 50

Quality assurance at the supplier's expense
This will help separate the wheat from the chaff and save you both time and money in the short and long term.
#40 : Place an anonymous test order
The best way to assure your potential supplier's quality is to place a test order anonymously as many people as well as companies put their best foot forward in order to acquire a new client but don't live up to the service standards they commit to.
When performing this test keep in mind the following aspects:
Shipping speed

Existence and/or accuracy of tracking details

Response time to inquiries

Item condition upon arrival

Returns – try returning the item to them and see how things play out.
If the supplier in question got a high rating as far as you're concerned in most categories then by all means start placing orders – but in my opinion start gradually and consider using more than one supplier.  
#39 : Understand your supplier's culture and stock up in advance!
I know this may sound strange but many sellers have suppliers in foreign countries and+
it is crucial for business to understand where they are coming from. A good real life example is when we worked with a supplier from China – we were ordering an average of 10 items a day but around February of that year our sales tripled. It turned out that our 'good fortune' correlated with the Chinese new year and sure enough our supplier was going on a 3 week holiday and could not meet our demand. The following year we stocked up on merchandise before the Chinese new year and were able to move merchandise at a 25% markup as our competitors were unprepared and fresh out of supply.
#38 : Source suppliers in person
The best way to find reliable dropshipping suppliers is at exhibitions. Meeting them in person has great advantages:
It is much easier to be a judge of character in person

Only well established and 'serious' suppliers make the effort to come to expos

There are multiple suppliers there so you can easily compare prices and services
Listing title & description most valuable tips
#37 : work in bulk
One of the most powerful habits you can adopt is working in bulk.
Over time, sellers who master the bulk listing technique will gain a significant advantage by saving huge amounts of time which can be dedicated to further expanding your business and gaining a competitive advantage.
#36 : Write titles for people, not computer algorithms
eBay's VP of Engineering, Dan Fain recommends writing and designing eBay listings for human beings and not for computers or search engines.  
Try and make titles user friendly by trying to put yourself in the buyer's shoes. He or she is looking for a specific:
Brand name

Model

Size

Color

Product condition
But needs it put in a title which flows:
"New, Unlocked White Iphone 6 with 32gb ram"
And does not sound computerized by lacking structure:
"Iphone 6, white, new, 32gb ram, unlocked"
It is in this way that you will be able to get more clicks on your listings and sell more merchandise.
#35 : Use Google Autocomplete
As most of you know, when searching in Google, a number of options appear in order to complete your sentence with the top search queries out there related to the key words which you have typed in.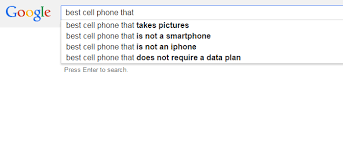 Just as with Google, you can easily discover the most popular search words and phrases related to the item you are selling using eBay's search bar. This is a very powerful free tool which can help you understand what consumers are currently looking for in your item category.  Do note that this function is currently available on eBay.co.uk: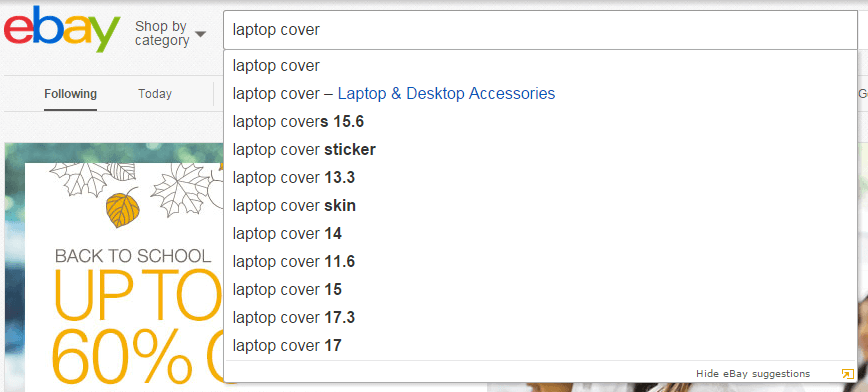 #34 : Use 'trust signals'
Shoppers on eBay are looking for different things, some want the cheapest item possible and others want the hottest new product no matter the cost. But at the end of the day, every client wants to be sure they are making a purchase from a trustworthy merchant who will supply a good quality product in a timely manner. If a person does not have enough faith in your product and/or brand he or she will skip your listing. In order to gain trust, consider adding:
A real image of yourself and your product (not an image you found in a catalogue)

Display positive feedback and reviews in your listing

Add product videos and/or satisfied customer testimonials
#33 : Create professional looking listings at a very low cost
By taking advantage of the most modern technologies and tools, you can create professional looking listings at a fraction of the cost and beat the competitive curve by standing out and exuding professionalism. With Crazylister you can achieve this for just $25 a month.
#32 : Analyze your eBay Messages
Messages you receive from current as well as potential customers are extremely important as they highlight something which can more often than not be used to optimize your listing. If something is not clear in your listing for instance this is a sales deterrent even if you are moving a lot of merchandise, customer concerns are a flashing light informing you what you can and need to improve.
A personal example of this comes from a repeated question we received regarding a GPS we were selling. We received a constant stream of questions whether the system included a map of Australia. We had clearly stated that it did, in our listing but apparently this was not sufficient – people needed to see a visual and so we added this image: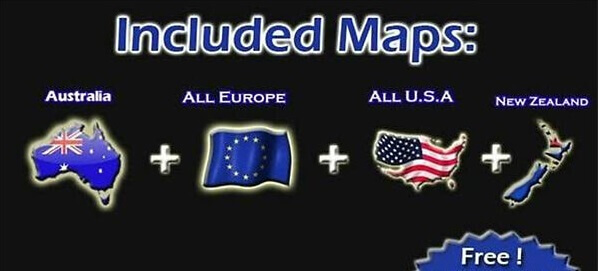 The results were incredible as inquiries decreased and sales skyrocketed. Always take what consumers have to say into consideration even if at the time their concerns seem unreasonable!
#31 : Avoid using walls of text
In general and especially today when people are strapped for time, inundated with information and extremely visual – do not waste shopper's time and energy with large swaths of text!
Firstly they will not read it

Secondly this deems the text ineffective and counterproductive
Bottom line: Treat listings as if they were advertisements and imagine you are paying per word – in this case you would attempt to be as precise and captivating as possible.
#30 : Fill in eBay Item Specifics
As most of you know, eBay works based on a search algorithm. Without the need to understand this in depth, it is fairly easy to grasp the idea that the more item specifics you provide eBay's search engine with the easier and more likely it is for your item to be displayed in search results. This is especially true when customers filter for items. If you do not fill in item specifics, your products are very likely to appear low in search results or not at all when filtered. Do yourselves a favor and fill these in!
#29 : Honesty is the best policy
When trying to sell something, especially if it is used, people often tend to try and make said item sound better than it actually is. If a product is:
Cracked

Damaged

Discolored
Or otherwise flawed, you should take full ownership of this and make it abundantly clear both with pictures and in your listing description. eBay is built on a community like model and peer feedback is of utmost importance. If you mislead a customer you will tarnish your reputation and risk having negative feedback and low seller ratings which is the equivalent of being dead on eBay. Honesty is the best policy especially since many people are actually looking for damaged products they can fix up and refurbish.
eBay marketing & SEO most valuable tips
#28 : collect emails for repeat business
Building a list of emails in order to promote repeat business is a very elementary and crucial business tactic. It is always healthy logic that someone who has purchased from you once will be very likely to purchase from you again and safely falls within your target market. In order to make this simple for yourself, use eBay's templates under:
'Marketing Tools'

'Email Marketing'
#27 : High conversion rate = High search result ranking
Your conversion rate is determined by the number of sales divided by the number of people who have viewed your product listing. For example if you have 6 sales out of 100 visits then your conversion rate is 6% (6/100) but if 10 people buy then your conversion rate is 10%. Consequently the higher your conversion rate the higher eBay will rank you in search results as this is a key indicator of your relevance to what shoppers are looking for.
#26 : The ideal marketing budget ratio = 1:3
When selling an item either online or in a bricks & mortar situation, a key rule of thumb is to never exceed a 1:3 ratio on your paid marketing campaigns. Meaning if you are selling a watch for $180, you should never spend more than $60 on advertising said item. The main reason is that as a business you have other overhead expenses such as:
Shipping

Packaging

Sourcing

Staffing
And as such need to maintain this ratio in order to maintain your profit margin.
#25 : Don't use promoted listings for slow-moving items
There are three main instances in which you should be promoting listings:
Increasing sales of already popular items

Increasing sales of items which sell relatively well

Gaining momentum for new items you are introducing
You should not be wasting any of your marketing dollars on slow-moving inventory! It is simply an ineffective waste of resources.
#24 : List on eBay Local Sites
According to official eBay investor reports, 59% of transactions are generated internationally ie outside the US. It is therefore a very good idea to try and tap the international market by:
Offering international shipping (preferably free international shipping)

Creating your listing on a 'local' eBay site ie logging on to eBay Australia for example and creating your listing there and not on eBay.com. The bonus of this is that eBay will list your product higher in local results over international competitors.
#23 : Write a user friendly listing description using keywords
Listing descriptions are as important to potential customers as they are to search engines. Take both into account and write a minimum of 200 words in your listing description and:
Place the most important keywords at the beginning of the listing

Make sure your copy is user friendly and not a list of keywords

Format your text ie use bold and change text size when appropriate and necessary
eBay pricing most valuable tips
#22 : Price items low when first launched
When launching a new item, especially in a 'crowded' category, I would recommend setting prices at the lower end of the spectrum. This is due to the fact that many shoppers are price driven and therefore choose to display results based on which item is cheapest. By doing this you may at first have little to no profit margin but the more sales you generate, the higher you will climb in eBay's default organic search results. If you keep a close eye on this, once you are at the top or at least close enough you can then start raising prices and reaping the rewards of patience and strategy.
#21 : Utilize eBay charity with free combined shipping
Some sellers take advantage of the option on eBay to donate all proceeds from a sale or auction to a charity. Once in awhile you can offer an item for sale where all the proceeds go to charity and simultaneously offer free combined shipping meaning that once someone buys an item for charity they may want to take advantage of your free combined shipping offer by perusing your items. Even if they do not buy an additional item this is a great way for people to become familiar with your items and may very well become future customers.
#20 : Modernize your inventory search
Consider downloading the ebay app which will allow you to scan the barcode of any item (new or used) and determine its value based on recent sales. Simply download the app, scan the barcode and click the 'sold items' filter in order to bring up similar items that have recently been sold. Scroll down and click 'sell one like this' and eBay will automatically fill in all the relevant info for you. Many people are not aware of how useful this app is and can be used as a great tool which fits into your pocket and can allow you to hunt for bargains and receive up to date, real time data which can help you determine if a product has good profit margins and resale value.
eBay images most valuable tips
#19 : Focus on benefits, not features
In this instance you want to focus on the benefits your item provides for a customer and not the features your product possesses. For example, if you are selling an insole for shoes focus first on the comfort this will provide and only after discuss the fact that it is comprised of three layers of padding and injected with orthopedic gels.
#18 : High quality images
Good quality images are crucial in a generation when people are addicted to visuals on everything from Instagram to Facebook. Long gone are the days of grainy images taken with disposable cameras. Make sure that your pictures are:
Not blurry but clear and pristine

Taken on a neutral background – black or white usually work well depending on the item

Take images of your item from multiple angles

Don't use images from catalogues which do not accurately represent your item
eBay seller tools most valuable tips
#17 : Conversion rate awareness and improvement
As I mentioned above, your conversion rate is the number of items you sell divided by the number of people who view your listing. Almost no one has a 100% conversion rate as there are always people on the internet who are just browsing and window shopping. So always sure to know what your conversion rate is and aspire to improve it!
#16 : Use eBay bulk listing editing tool to add item specifics
As I said, product specifics are crucial to the discoverability of an item in search results but not all of these identifiers need to be added manually all the time. Many times you can and should take advantage of eBay's built-in bulk editing tool where you can add specifics to multiple items simultaneously.
#15 : Use eBay's business policies
Business policies are details specified by yourself in listings regarding:
Instead of creating these policies manually, each time you list a new item you can mix and match these policies which you have already created and apply them to your new listing.
These policies will allow you mainly to:
Edit and update all your listings simultaneously

Apply your policies to listings in bulk
eBay shipping & returns most valuable tips
#14 : A return policy is not nice to have, it's a must
A key aspect for potential clients on eBay is your returns policy. If you do not have a return policy or if your return policy is less than generous you will:
Lose potential customers who are put off since you don't want to take responsibility for your own items

eBay will penalize you in terms of your ranking in search results as its algorithm favours generous return policy providers  
#13 : Fast dispatch (1-day handling time)
Another aspect which both eBay and consumers consider extremely important is fast dispatch time. Merchants who provide 1 day handling will outsell slower competition and will again be favoured in terms of eBay search result ranking.
#12 : Fast delivery
In the modern world, people want what they want and fast! Amazon Prime tapped into this lack of patience and made 2-day delivery the new standard in eCommerce. As far as eBay is concerned they introduced a new 3-day guaranteed shipping filter. If you can't keep up with the 2-3 day shipping standard, you stand to lose a lot of business.
#11 : Offer free shipping
Again people want things fast and obviously everyone loves a freebee. It goes without saying that even if you have to increase the product price itself it pays to offer free shipping. That is to say the illusion of the shipping cost being free is enough in order to gain more customers. Extensive research has been done and free shipping increases conversion rates hands down!
eBay customer service most valuable tips
#10 : Reply to customers ASAP
As I mentioned above, we live in an instant world and in an on demand culture. Just as people expect you to answer their messages on Whatsapp or SMS right away so too they expect to receive a response to their queries immediately. Customers may have contacted multiple merchants simultaneously and may very well make a purchase from the quickest to reply. Do yourself and your business a favor and answer customers ASAP!
#9 : The customer is always right
All customer issues should be remedied in a calm and friendly fashion – the customer is always right even when he or she is wrong! You want happy customers in order to create a positive feedback loop and generate more and more business. Don't make anything personal – business is business.
#8 : Ask for feedback, it's crucial
As with the example I mentioned about the feedback loop selling GPSs on the Australian market – customer feedback is crucial. Ask customers to give you feedback regarding their purchase experience and satisfaction with your product. Research shows that you need as little as 20 people to provide you with feedback in order to learn 90% of what you need to know in order to improve.
#7 : keep the customer in the loop at every stage
Making a purchase online has become second nature to us but for many people it is a very nerve racking experience. These nervous feelings only subside once our item has arrived safely and in one piece. In order to make the online purchasing experience as pleasant as possible for our clients and in order to ensure positive feedback and repeat business we must:
Inform the customer of the delivery process directly after the purchase is completed

Provide a tracking number and link the second the item is sent out

Email the customer a few days after the package was sent out to ensure they received it or to reassure them of its imminent arrival

Once the item has been received we must ensure that everything is to the liking of the customer and offer our assistance in assembling or using our product
#6 : Provide the customer more information than he requests
Make sure to offer customers more information than they ask for or expect. For example if a man asks you if a shirt you are selling which is a Large will fit him even though he is an Extra Large. Instead of simply replying yes or no you may want to say that although it is advertised as a large the shirt happens to be larger than most larges on the market. Additionally you can measure the shirt arm to arm and give him this information and ask him to measure his chest to and compare lengths. This type of engagement with a customer will put them at ease and may very well be the difference between making a sale and losing a customer.
#5 : Don't rely solely on eBay
My top tip for today is to diversify your selling channels. If you only sell on eBay, you should make it your goal to sell on another channel within the year. Putting all your eggs in one basket is very risky, especially due to policy changes and updates on eBay including but not limited to the:
Active content ban

New links policy
#4 : Comb-through your competitors feedback
Going through your competitor's feedback will indicate to you what your target customer's key concerns are with the specific product you are selling. Once this is determined you can preempt these concerns and undercut your competition. A key example from my personal experience is discovering that customers were concerned about the one year warranty on GPSs, so we doubled it to two years on our product.

#3 : Timing is everything
On eBay this is very true from the time of the year until the day and hour. Try and sell seasonal items in the correct season. Swimming items in summer and Christmas items around the holidays. Also consider the demand factor – if you know there is going to be a championship game and you are selling Yankees paraphernalia for example, wait till the week before when price and demand are high.
In terms of days and time, Sunday evening is eBay's busiest time for purchases as most people are not working in the US and have come home from their Sunday activities. Consider ending an auction at this time when bidding wars may erupt and drive your product's price up. Avoid ending auctions at 4am in middle of the week when very few people are active.
#2 : Avoid Amazon to eBay dropshipping
In my opinion this practice is completely unsustainable in the long term and puts you at risk as far as Amazon, eBay and your customers go. You run the risk of a customer finding out and feeling completely duped that you marked up a product from Amazon and made a profit at their expense. eBay also frowns upon this practice as proven by the fact that eBay has completely banned Amazon to eBay dropshipping this year as it is apparently rampant Down Under. Only use this option in desperate times when you run out of merchandise and the customer refuses to cancel his or her order.
#1 : Choose an eBay Niche Where You Can Add Value
The best way for small and medium size merchants to succeed in eCommerce in general and specifically on eBay is by specializing in a niche. Amazon for example has an enormous variety of products for sale and it is impossible for them to offer professional and dedicated service for every single product – this is where smaller sellers can enter center stage. If you offer the best service possible and provide the best customer experience in your niche you have a chance of being extremely successful with what you are selling. Try and choose an area in which you have expertise and can offer customers true added value.