In this post I am going to summarize the most interesting and useful eBay seller news articles  that were published in 2017. Read on if you would like to stay informed about all things eBay from the newest policy updates to fraud and theft, from guaranteed delivery to European VAT policies – all these could have big implications for your eBay store!
The news: 'Ebay accused of failing its sellers as fraudulent buyers manipulate the system'
"My experience, and that of other sellers I have spoken to, is that buyer-fraud is rife," says one eBay seller in this eye-opening article. "Every single seller I spoke to had a tale to tell of at least two incidents (of fraud) in the past year. The simple fact is that eBay's policies allows this fraud to happen."
As an eBay seller I am sure that you have either experienced buyer manipulations to steal goods and receive refunds at the seller's expense or know someone who this has happened to. Many sellers have even gone bankrupt due to eBay policies which clearly and unfairly favor buyers over sellers.
This article takes a closer look at some real examples of buyer fraud, how eBay dealt with them and what steps eBay plans on taking to remedy these major flaws in the system.
One such example is of Londoner, Catherine Lewis who sold a coat on eBay, the buyer claimed the item never arrived and Lewis only had proof of postage but not delivery so eBay forced a refund. This specific buyer had previously been reported as buying items on eBay and then claiming they never arrived essentially stealing dozens of items but eBay did nothing to stop them until it was reported on in the media, making headlines in eBay seller news.
The main  issues sellers encounter according to this article
Buyers claiming they did not receive goods when in reality they did and getting a full refund at the seller's expense.

Buyers refunding damaged items such as a 400 pound sterling table which was returned smashed.

Buyers returning an item decoy, for example an eBay seller mentioned in the article sold a Japanese sword for 1,400 pounds sterling and received a brick  in a return package instead of the sword. Once he signed for it, eBay claimed the seller had forfeited his rights.

Reviews are one side – sellers can only leave positive feedback on buyers as eBay fears inhibiting buyers from making future purchases but buyers can leave sellers both positive and negative feedback.

Years ago eBay allowed sellers to leave negative feedback but they canceled this option

Sellers have more to lose than buyers since just opening a claim against a seller can reduce a seller's satisfaction rating, loose them future customers with negative feedback and result in a 'defect' being recorded against the merchant – three erroneous defects means an unjust 'below standard' rating for sellers.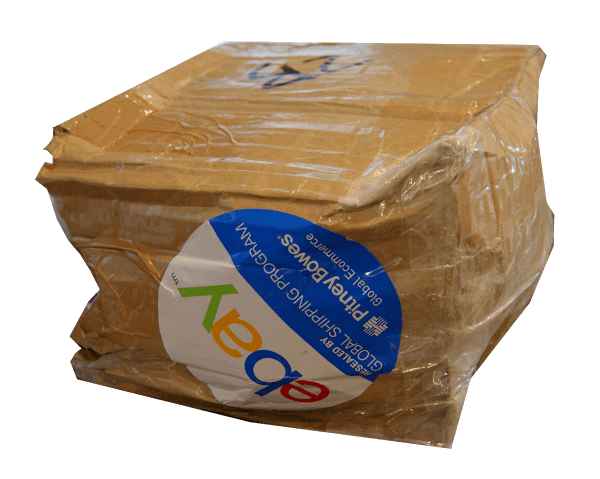 eBay has been slow to respond and seems to only rectify buyer wrongdoing in favor of sellers when the media gets involved. But last April eBay finally admitted, "There is something wrong. The system was built on the premise that most people are honest".
But many people trolling eBay are not honest and we need serious action on eBay's part to remedy this. Cue ebay's pilot which requests photographic evidence when buyers or sellers allege damage or duplicity.
"We have created a different returns experience, including putting obstacles in the way of suspected fraudsters to prevent refunds, or even blocking a buyer entirely when we suspect fraud before they've been refunded,"  eBay proclaimed. "We're also giving the sellers who offer free or 30-day returns the ability to allow partial refunds on faulty, damaged and lost item claims so that they can recover costs."

From feedback I have found online many sellers are not satisfied with the steps which have currently been taken and still claim eBay favors buyers over sellers and profit over ethical business practice: Have a  look at these comments below. And as always I would love to hear your experiences in the comments section below.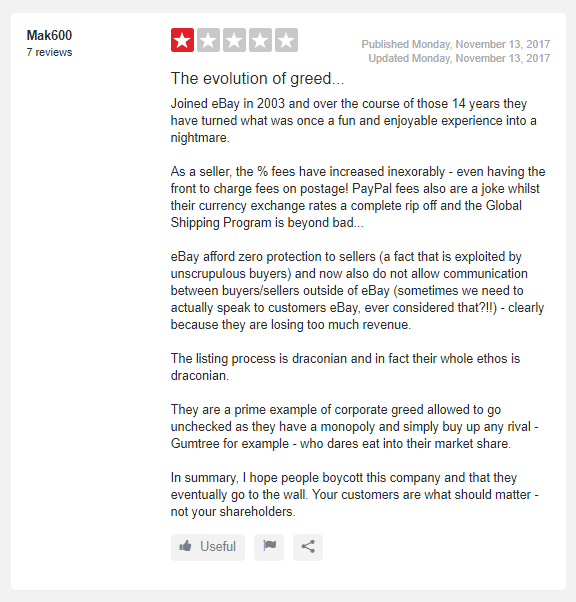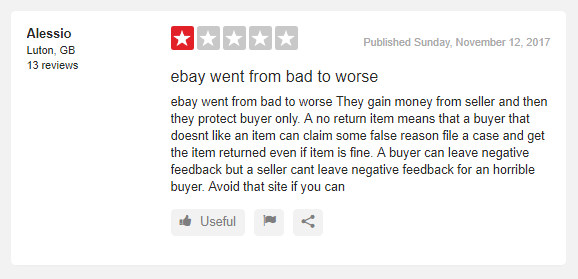 The news: 'Envisioning The Future of Retail'
This article which appeared as a headline in eBay seller news is interesting as we get to hear firsthand from eBay President and CEO Devin Wenig about the future of retail on eBay and how big data, structured data and artificial intelligence will affect buyers and sellers alike.
eBay is trying to appeal to millennials by trying to offer a more personalized customer experience replete with a plethora of customization options. The main steps according to Devin that the company is taking are:
Creating a

simple, personalized, inspiring homepage

Creating highly engaging and personalized browse pages and modules

Building out enhanced Product Pages and Search Results Pages (SRP)

Ushering in millions of user reviews and encouraging buyer/seller questions and answers on eBay

Encouraging sellers to help with structuring listings and data
In this context and in my opinion this is the most important thing that was said about the future of the eBay buying/selling experience:
"We have embarked on an ambitious, multi-year evolution of our shopping platform at eBay that aims to deliver relevant, persistent and personalized experiences for consumers…Herein lies the opportunity to leverage structured data to catalog our inventory — a transformative step that will drive discoverability, insights into supply and demand, pricing trends, among other things. This long-term initiative will help surface deals, seasonality and allow us to build a great shopping journey based on deep inventory insights."  
Using metadata or structured data as eBay calls it, eBay is creating and will create very sophisticated search and browsing interfaces which will be able to filter for anything from 'great savings' to 'best-selling products'. Here is an example eBay provided for searching for skateboards based on brand, value for money and most popular items: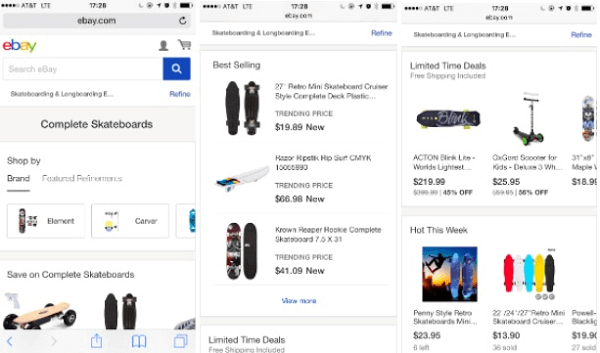 Other artificial intelligence based features include showing related items to your search as well as helping you compare prices of similar items without the need for any additional search. Here as an example: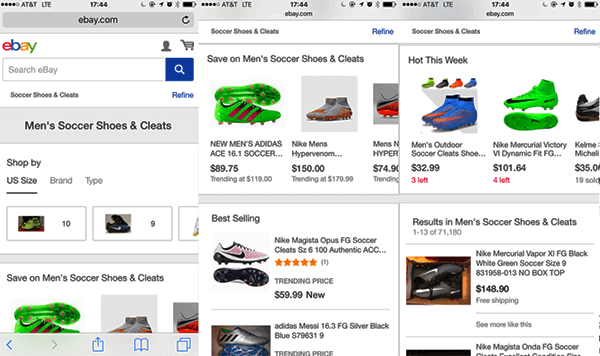 Some of these features have yet to be rolled out and some of them are already here and changing the eBay marketplace on a day to day basis. In order to keep up with the competition and the technology eBay sellers need to be a step ahead of the game. This means:
If eBay is talking about customization on the macro level maybe you should consider offering customization of your products. That's what the millennial generation craves according to eBay's research – use the money they invested in research to benefit your business!

Be an active seller by voicing your opinion and providing expertise via questions and answers – eBay plans on pushing this feature and being active in this department could help you develop a good reputation within the community and score you more customers.

Leverage the metadata  – If eBay is showing that one of your products is trending this week or is highlighting certain items due to a holiday then you yourself should put more energy into that item listing as eBay will be pushing this as part of their own agenda and at no additional cost  to you as a seller. I can't stress this enough – pay attention to the trends eBay is promoting and leverage this to your benefit!
The news: 'A Major eBay Change that I've Learned About While Visiting The Headquarters'
One of the most important points of interest in eBay seller news in 2017 which I covered  in my eBay spring update 2017 is that eBay has changed its policy in terms of driving traffic away to third party sellers and is closing the loop by driving eBay traffic back to eBay sellers.
What was the situation beforehand ?
Before this shift eBay decided to cash in on its large traffic by selling ads to third party vendors in related categories. For example, if you were looking for 'iPhones' on eBay, below your results you would have 'sponsored links' and if a buyer clicked on these they would be taken to a different website where they might very well purchase an iPhone instead of buying from an eBay vendor – you.
Why would eBay do this ?
Well, the simple answer is money, yup. eBay has been selling its sellers down the river for a quick buck or more accurately $1.7 billion dollars in annual revenue. eBay was raking it in on the backs of its sellers much like other internet giants.
Why did this change ?
This changed when the management at eBay woke up one day and realized that 70% of their revenue comes from native eBay transactions from small and medium sized vendors. Also:
Sellers were reporting a drop in sales

Traffic to eBay compared with other sites like amazon had dropped drastically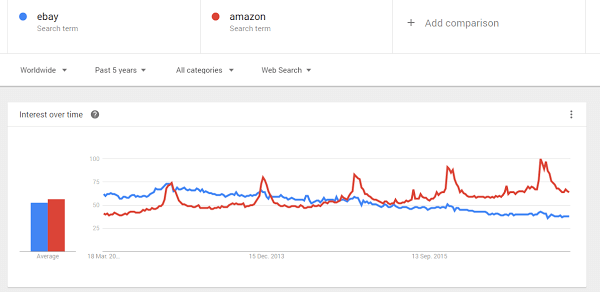 People were angry and this strategy was not working for eBay and they realized that a change was in order. So in May of this year eBay announced that it would decrease the traffic it drives to 3rd party advertisers and increase the traffic it drives to its marketplace sellers.

How does eBay plan on doing this in practice ?
In order to promote its new agenda, eBay has rolled out a program you have probably heard of called 'promoted listings' which allows sellers to pay for premium placings on eBay instead of third party advertisers. This creates a win-win situation as eBay can still earn money from promoted listings and revenue will increase for sellers which will in turn drive eBay's income up as well vis-a-vis seller fees.
Ebay is also investing in TV, radio billboard and online advertising to help generate new traffic.  
This is fantastic news for sellers as it will increase traffic to eBay and should drive sales way up.
The news: 'eBay Launches Search Filter for Guaranteed Delivery' according to eBay seller news
eBay Guaranteed Delivery guarantees your item will reach your buyer within 3 days based on geographic location.
Why should sellers sign up for Guaranteed Delivery ?
It gives buyers peace of mind and 72% of online shoppers say on-time delivery is the top reason they are loyal to retailers.

You will get more customers who otherwise will not see your listing as buyers can now filter for this on the eBay website or use the toggle to filter you on their mobile device (see the image and GIF below).

eBay deals with customer service related to late delivery and protects you from negative feedback related to delivery time when you meet your obligations.
Filtering by arrival time on the eBay application: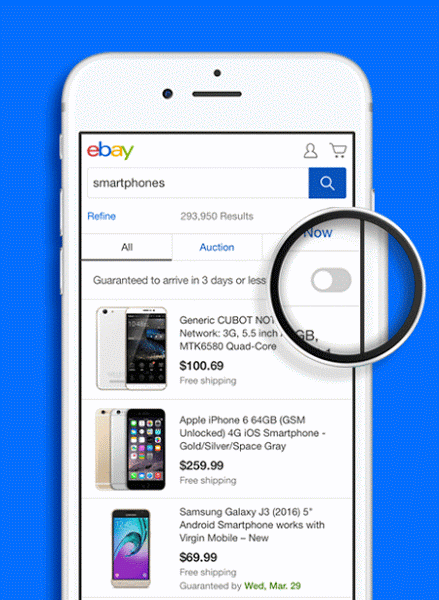 Filtering by arrival time on eBay.com: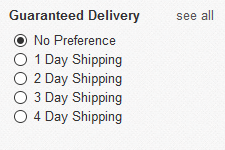 You have two 'Guaranteed Delivery' options:
Handling time option – Sellers guarantee their handling time and eBay deals with and guarantees the delivery date.

Door-to-door option –  Sellers take full responsibility for shipping and handling their item within the three day guideline.
Here is a chart to help you compare the two options and decide which one suits your needs best: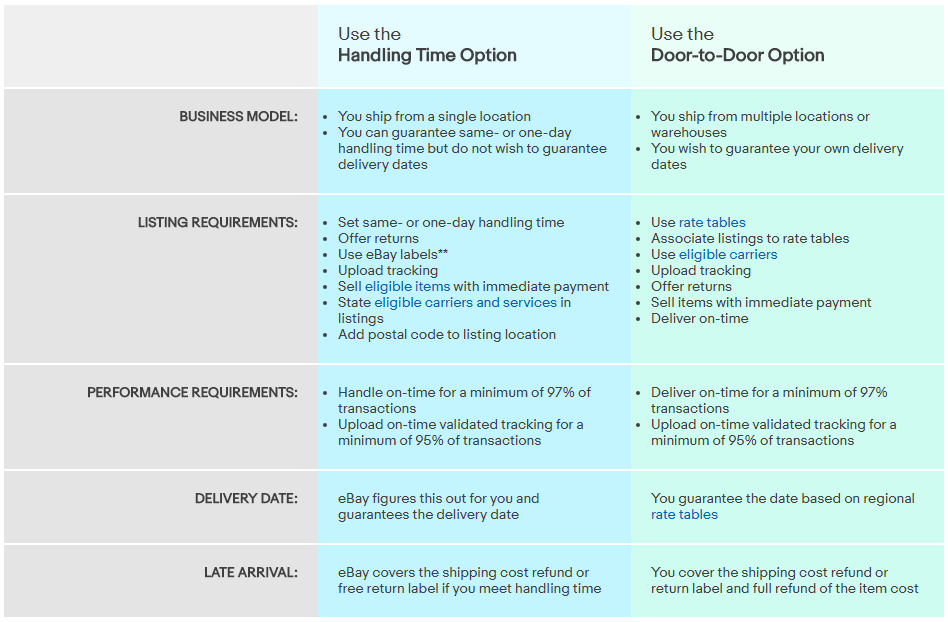 The news: eBay Launched Pan-European VAT Petition
According to eBay seller news, the company  has launched a political campaign including a petition (see below) in September in order to help promote small and medium sized businesses fight for fair VAT (Value Added Tax) legislation.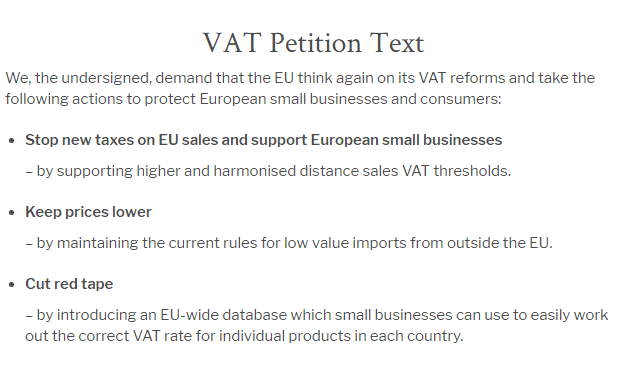 Since then over 100,000 European eBay sellers have signed the petition. Additionally eBay has organized a delegation of 6 small business owners from the EU to come to Brussels and help its lobbying delegation voice its concerns to European Union lawmakers.
What is the proposed tax legislation ?
The proposed reforms would force small businesses to charge VAT on sales made to other EU countries even if they are currently not obligated to do so in their homebase country effectively changing the way small businesses conduct business in the European economic zone. VAT will be charged if sales reach the 10,000 euros mark effectively hitting small online businesses the hardest including but not limited to small eBay businesses.
How does this new legislation affect small and medium sized eBay sellers ?
New taxes on cross-border sales

Higher prices for consumers

More red tape for European small businesses

Less cross-border trade within Europe

Less choice for consumers
Here are some things sellers had to say about the new proposed tax policy:

Going forward eBay says  its Government Relations department will continue to stay actively involved in EU VAT reform discussions on behalf of The eBay corporation and on behalf of  their European buyers and sellers.
I hope that this post was helpful and informative. Please feel free to start a discussion below on any of the five articles I summarized here or regarding any related and relevant topics you would like to raise.