eBay Guaranteed Delivery is a clear comeback and eBay's answer to Amazon Prime. People today not only want quick deliveries but they want to be sure that those deliveries will arrive on time – according to eBay, Guaranteed Delivery is the second priority to shoppers after quick delivery time. The move will include roughly 20 million items on eBay, a majority of which will not only be Guaranteed but also offer free shipping.
At present – 67% of eBay's items already include free shipping and 63% are delivered in 3 days or less! (Source: TechCrunch)
According to former eBay Senior Vice President, Hal Lawton:
"While the majority of items on eBay already ship within 3 days or less, as well as for free, Guaranteed Delivery will give shoppers even faster delivery options and the confidence that their items will arrive on time."
This means that Guaranteed Delivery just formalizes the facts on the ground and affords customers the confidence that their items will arrive on time meaning eBay isn't really offering something which does not already exist. That said and even though eBay isn't really investing money in rolling out this program it does come with a burden as they will reimburse the customer in a situation where the item does not arrive on time (more on this later). Either way, the twist in the plotline is that Guaranteed Delivery is completely free for both the merchant and buyer as opposed to Amazon Prime – that means that eBay just raised the temperature and that there is a new player in town.
Do keep in mind that Amazon Prime has been around much longer and that eBay Guaranteed Delivery is still in diapers. eBay's Guaranteed Delivery allows sellers to offer same day handling and 1-3 day shipping meaning by my calculation the quickest a customer would get an item with this program is by the next business day. eBay does have a separate program called 'eBay Now' in conjunction with local stores who offer same day delivery – but again this is very localized and extremely limited.
By comparison:
Amazon Prime 2 day delivery is available for 50 million items

One day/same day delivery is available for 1 million items

Prime Now 2 hour delivery is available for 25,000 items
The scope and speed of eBay's program does not even begin to compare with what Amazon offers. Amazon has eclipsed eBay by a long shot and it would appear that eBay is using cheap marketing and rebranding tricks in order to compete with Amazon's edge.
The real question is –  will spinning circus tricks be enough to change consumer behaviour?
Only time and American shopper's level of intelligence will tell.
Do read on to learn more about the Guaranteed Delivery program.
But enough about Amazon, let's talk more about eBay Guaranteed Delivery. Guaranteed Delivery allows sellers to offer buyers quick and reliable item delivery which can actually boost listing visibility since shoppers can now filter based on shipping time on eBay using the new search toggle:

eBay actually offers two options in their new Guaranteed Delivery program:
Handling Time – In this option, sellers are typically required to prepare items for shipment within one day of receiving an order and eBay will handle the rest. If you held up your end of the bargain and eBay messed up, they guarantee to 'make it right' with the customer (more details soon).
This option is perfect for:

Small sellers

People who can work quickly
People operating out of a single location
The downsides include:

You are limited by eBay's capacity and carriers

You must ship using eBay's rates

You are limited to a single warehouse

Door-To-Door – This option puts the responsibility on the seller who has to calculate delivery times and ensure items arrive on time. If the item is delayed, the customer is allowed to keep the item while getting a refund on shipping or return the item with a full refund as well as free return shipping – all paid for by the seller.
The upsides of this option:

You can have multiple warehouses

Set your own rates

You have full control of shipping and handling and can potentially offer even faster than 3 day shipping
Late Delivery Guarantee
As I mentioned earlier, eBay will actually guarantee that your merchandise arrives on time, if not then eBay will offer your customers one of the following 3 options:
Reimburse them for shipping costs

Offer them a voucher for a future eBay purchase

Offer a free return label if the seller accepts returns  
This guarantee is what lies at the heart of this service. Again, Guaranteed Delivery is a relatively low risk for eBay since they are leveraging their existing seller's current performance. The only thing is that now eBay is slapping their name on it and giving the phenomenon of quick and reliable delivery an umbrella name. And of course, taking on the financial responsibility of reimbursement which is big on an individual level but relatively negligible on the corporate level.
Who can use eBay Guaranteed Delivery and how do you opt-in ?
That is a great question. In order to meet eBay's eligibility standards for this program, you need to have a minimum of 100 annual transactions and have a Late Shipment Rate which is below 5%.
About opting-in, since this is a relatively new program, you will need to sign up for eBay Guaranteed Delivery and eBay will email you when it is your turn. I decided to personally try to sign up for Guaranteed Delivery and was added to a waiting list as eBay is 'onboarding sellers in a phased rollout'. To say the least, I was bummed out since, just like most of you, I was eager to try out this new feature.
Here is the message I got when I tried opting-in:

Do note that Guaranteed Delivery is only a US based service as of now and eBay is actively opting-in many eligible vendors. If you still have not received an official invitation from eBay to join the program, do keep in mind the following factors which have a strong bearing on your eligibility:
Your

performance score

. eBay has yet to publish specific numbers they are looking for but they are obviously looking for the highest ranking sellers

You need to be using an eligible post service which includes the big 3: UPS, FedEx, and DHL

You need to accept returns. If you don't currently accept returns then I recommend you change this in your eBay policies

You should be asking for immediate payment from customers
Note: Once you opt-in and are approved, all of your eligible items will be automatically signed up for Guaranteed Delivery but you can individually opt-out specific items at your leisure. There is a hack I read about which basically recommends that if there is a specific item you are not interested in participating in Guaranteed Delivery with then all you have to do is change the shipping options, for example you could change an item's shipping option from 'expedited' to 'standard'. This would disqualify the item from GD and save you a headache and negative potential feedback on an item you are not able to make good on the GD promise with (ie 3-day shipping).
The Pros of Guaranteed Delivery
There are some clear advantages to using eBay's Guaranteed Delivery:
Search result rankings

– 

Everyone wants to rank first in search results especially on eBay where people rarely scroll past the first page of search especially where Cassini, eBay's search engine reigns supreme. Cassini focuses on 4 main factors:

Relevance

Value

Trust

Convenience
Opting-in for Guaranteed Delivery can seriously boost your search results placement as this increases your trust with eBay's official backing as well as convenience since your items are guaranteed to arrive within 3 days. This will give you an additional way to compete with other sellers other than price.

Cash in on last-minute shoppers

– 

Today people are extremely busy and often forget to buy holiday or birthday gifts in time. According to The International Council of Shopping Centers, an average of 75% of people buy last-minute gifts right before holidays such as Christmas. Very often they will turn to a physical store in order to not take a risk in terms of their gift not arriving on time. Guaranteed Delivery gives shoppers added confidence that their items will arrive on time and may earn you that much more extra business. Now not only increasing positive feedback but also being able to offer expedition will give you that extra edge.
Get on the toggle wagon

– 

I think since eBay introduced the toggle which allows you to filter for 3-day shipping, many people are going to use this and sellers who have not gotten on the 'toggle wagon' are going to become virtually invisible to a large portion of eBay shoppers. This is a clear advantage to those who are enrolled.
Charge more money

– 

Regardless of whether or not you offer free shipping, Guaranteed Delivery is a serious upgrade in service and it is well established that people are willing to pay for speed and certainty. The key empirical proof is that Amazon Prime currently charges $119 for an annual Prime membership. This shows that people are willing to pay for sheer access to speed and certainty. That is why you are able to charge higher item prices since your item is perceived as more premium and more coveted. Check out this comparison between the price of Guaranteed Delivery items and non GD items: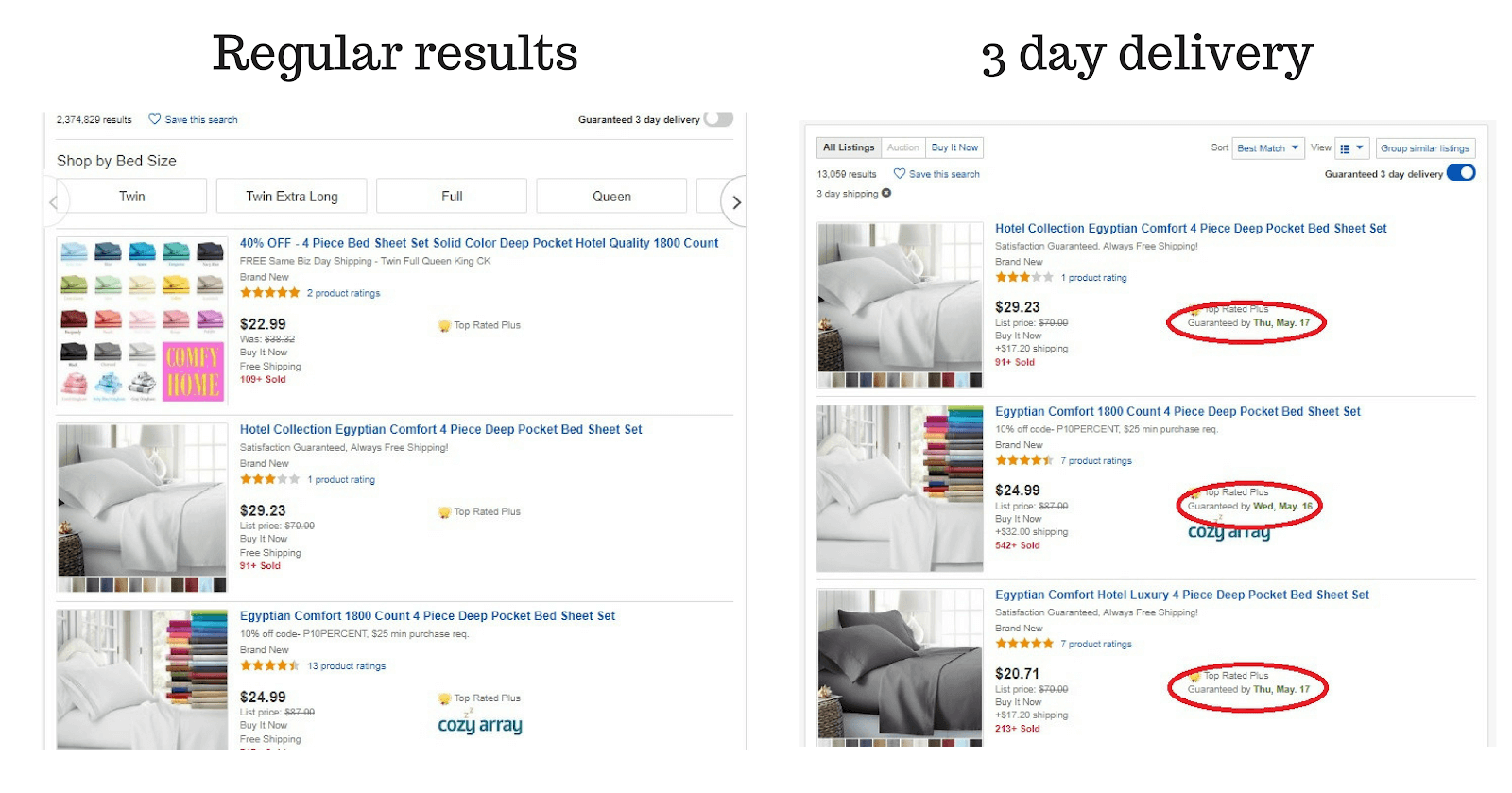 5. It's free (and profitable)! – Say nothing more! As I mentioned above the service is completely free for both sellers and buyers – what more could you ask for? What could possibly deter you from trying out a completely free program which has the potential to bring in tons of new business. Check out these seller testimonials from eBay's website: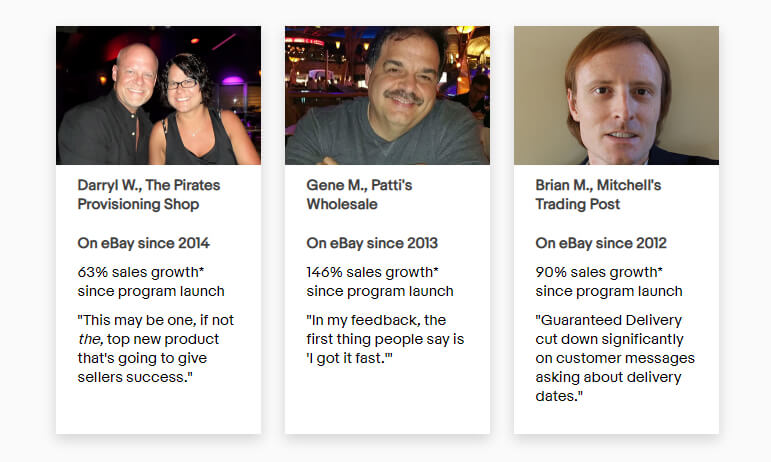 Guaranteed Delivery's detractors have a lot of beef with the program and claim that it's not all it's cracked up to be. Here's why:
It's slow

– eBay is making a big deal about getting your item in 1-3 days when Amazon is offering same day and 2-hour delivery. They give sellers one day for handling and it's a day or at least a half day to ship so as far as I am concerned it's 2-day shipping at best and that doesn't impress anyone these days.

It's a fiction

– eBay is not really offering anything. They are only willing to bet money on winning horses. They only allow sellers with very good selling metrics to join the program such as sellers with an under 5% Late Shipment Rate so there is very marginal risk involved here for eBay.

It's limited

–  First off as I demonstrated earlier, eBay is slowly rolling out this program and it's not open to everyone. Beyond this, they limit how many warehouses you can have to one and which shipping companies you can use to 3 – what is up with that? To me, that is a serious limitation. Also, it is only available in the US – what if I have customers in the EU, why can't they enjoy this service too?

Price

– Sellers are constantly working on keeping their prices competitive and suddenly with Guaranteed Delivery, price will become a more marginal factor and higher priced items may be given preference by being displayed at the top of search results. This takes away from a lot of time, effort and loss in profit that many sellers have had to put up with for years. With the click of a button all of that is going to be thrown out the window.

Eligibility –  eBay is casually taking their time to slowly roll out this program and is being selective about who they admit. What if it takes a seller 6 months to be admitted and in the interim their competition is part of the program from day one. Meanwhile, all of seller number one's clients are filtering for 3-day shipping and become loyal clients of seller number 2. This puts seller one out of business on a technicality. Did eBay ever think about that !?
All things considered, many people would consider this an improvement on eBay's part and an attempt to compete in the big leagues. But the truth is that in my opinion eBay has rolled out this program far too late – whatever happened to response time? Or time is of the essence? Amazon Prime has been running strong since 2005 – What about eBay and why not offer same day shipping when Amazon is already offering 2-hour shipping in some instances? The world is changing fast and people want things quickly. I predict that in the not so far future eCommerce shipping is going to be measured in a matter of how many hours it takes for an item to arrive and not days! In this case Amazon has the upper hand while eBay is spinning cheap tricks and recycling an already existent 'program'. Consumers today are smart and shrewd and can tell the difference between an entirely new face and a facelift.
Please let us know below if you think eBay's Guaranteed Delivery program is the greatest thing to hit the planet since ice-cream or a washed out, recycled t-shirt from the 80s!?